Invisalign Treatment In Portland, OR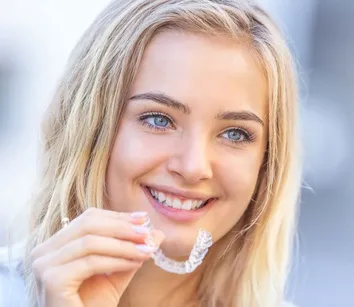 Get the straight, stunning smile you want—no braces required!
Our office is proud to offer Invisalign treatment to residents of Cedar Mill and the Portland area. Invisalign is a fantastic system that straightens your teeth without the use of traditional, metal braces. Instead, Invisalign uses a series of plastic trays, called aligners, to move your teeth into place.
Is this incredible treatment for everyone? No, but you can find out risk-free if it is right for you. Simply schedule your complimentary consultation with Dr. Dewey to find out if you are a candidate for Invisalign treatment.
Read below to learn more about how Invisalign treatment works and discover the many benefits it has to offer.
The Basics of Invisalign
As noted above, Invisalign uses plastic aligners to move teeth into place. These aligners are made specifically to fit your dental anatomy based on 3D mapping of the inside of your mouth. Each aligner will place pressure on your teeth in different ways in order to strategically move them into place. This pressure is gentle, more so than with braces, and works quickly.
You'll wear these aligners for about 22 hours out of the day, only removing them to eat, drink, brush and floss.
Advantages of Invisalign Over Traditional Braces
Across the country, Invisalign has become one of the most in-demand dental treatments. Why are patients so enthralled with this form of treatment?
It is invisible, which means that no one needs to know you are in treatment.
You can remove it when eating, brushing, and flossing.
Appointments are less frequent, giving you more control over your schedule.
The system is very comfortable, causing little to no irritation.

Oral Care & Your Invisalign Aligners
Aligners will need to be properly cleaned, but because they can be removed you won't have to make any drastic changes to your diet or oral care routine (which you would have to do with braces). You won't have to worry that certain foods will damage brackets or wire. Just remove your aligners prior to mealtime and you're all set.
The same goes for your oral care routine. Just remove your aligners prior to brushing and flossing. It's that simple. Now you won't have to worry about carefully trying to brush around your traditional braces, where food and bacteria can easily hide.
Flossing can also be a challenge with traditional braces, but Invisalign makes it easy to continue caring for your teeth and gums without changing your daily routine. Invisalign fits seamlessly into your lifestyle.
When you consider the many advantages of this treatment, why wouldn't you want to choose Invisalign?
To schedule your FREE consultation with Dr. Dewey and find out if Invisalign treatment may be right for you, call Summit Dental in Portland, OR today at

(503) 644-7202

.


Family Dentist Serving Portland, OR & Surrounding Communities Including Cedar Mill, Beaverton, Cedar Hills, & Hillsboro.